Today I joined Group X to speak to year 10 students at St John's Anglican College in Forest Lake about why there's never been a better time to launch a career in tech. This post first appeared on the Group X blog, and it's reposted here with their kind permission.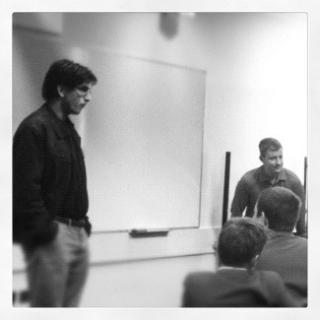 One of our favourite activities here at Group X is heading out and visiting students to spruik our favourite subject, ICT. This week we visited St John's Anglican College on the south side of Brisbane for their careers day.
Joining Group X and the I Choose Technology project to talk to students was researcher at National ICT Australia (NICTA's) Queensland Research Laboratory (QRL), Dr Ricky Robinson.
Responsible for the development of software prototypes, the author of numerous academic papers, and having previously worked in a number of software engineering roles, Dr Robinson said technology, and in particular software, is reinventing the world.
"If you look at any industry, from mining to health to construction to tourism, computer technology is the pivotal reason for advancing and improving efficiencies in each and every one of those industries," Dr Robinson said. "What other field can you say that about?"
This is great news for ICT professionals, and those aspiring to work in the industry, as it means software and electrical engineers will be in high demand for a long time to come.
To inspire your students about ICT, Dr Robinson believes it is a field where students need to be encouraged to play.
"We all learn better by doing, and of course, learning from our mistakes.
"ICT is about inventing and innovating through design, creative and logical thinking," Dr Robinson explained.
When asked what inspired Dr Robinson to get into ICT, he said it's the feeling that technology has the ability to reinvent entire industries.
"Take book retail for example," he said. "Amazon has been able to completely redefine what it is to be a bookseller because it looked at the business of selling books through the lens of technology.
"In fact, it's arguably a software company that happens to sell books."
The research side of ICT, however attracted Dr Robinson because of the many challenging problems facing the twenty-first century that if solved, would make the world a better place.
"NICTA, for example, is working on technologies for greatly expediting the discovery of geothermal energy sources, enabling people with certain kinds of blindness to see again, and improving emergency communication networks in disaster response scenarios," Dr Robinson explained.
Now that is inspiring.